I love retellings — fairy tales, mythology, classic novels — you name it.
I love seeing which elements each author considers worth keeping and what new angles and parts of themselves they bring to the story. When you've seen the core elements time-and-again, how much of the story can you change without losing the heart of the tale?
The WIP I worked on last year, To Whichever Darkness, was inspired by the classic ballet, Giselle, which was in turn inspired by "a prose passage about the Wilis in De l'Allemagne, by Heinrich Heine, and from a poem called "Fantômes" in Les Orientales by Victor Hugo." (from Wikipedia).
If you're interested in exploring some great retellings, in particular some diverse ones, here are five beautiful queer reimaginings to give a go.
Girl, Serpent, Thorn by Melissa Bashardoust
"She had read enough stories to know that the princess and the monster were never the same. She had been alone long enough to know which one she was."
There was and there was not, as all stories begin, a princess cursed to be poisonous to the touch. But for Soraya, who has lived her life hidden away, apart from her family, safe only in her gardens, it's not just a story.
As the day of her twin brother's wedding approaches, Soraya must decide if she's willing to step outside of the shadows for the first time. Below in the dungeon is a demon who holds knowledge that she craves, the answer to her freedom. And above is a young man who isn't afraid of her, whose eyes linger not with fear, but with an understanding of who she is beneath the poison.
Soraya thought she knew her place in the world, but when her choices lead to consequences she never imagined, she begins to question who she is and who she is becoming…human or demon. Princess or monster.
Alcestis by Katherine Beutner
"We flew, the god and I, wrapped in his fluttering cloak. The space around us was uniform as a cloud, but I saw shapes and patterns below us, patches of darkness, ribbons of gloom, glints of metal or stone. Lines of strange-colored light. I felt as if I were trying to make out the floor of the sea by looking through deep water."
Alcestis, the fabled 'good wife' who sacrificed herself in order to save her much loved husband, King Admetus.
In this reworking of the classic legend, a decidedly more complex and restless Alcestis is provided with an intriguing backstory involving her childhood and the untimely death of her favorite sister, Hippothoe. When Admetus is too cowardly to face his own death, Alcestis, hopeful of reuniting with Hippothoe, agrees to take his place in the Underworld. It is here in death that Alcestis wrestles with the true nature of love and loss, as she falls under the seductive spell of Persephone…
The Song of Achillies by Madeline Miller
"Name one hero who was happy."
Greece in the age of heroes.
Patroclus, an awkward young prince, has been exiled to the court of King Peleus and his perfect son Achilles. By all rights their paths should never cross, but Achilles takes the shamed prince as his friend, and as they grow into young men skilled in the arts of war and medicine their bond blossoms into something deeper – despite the displeasure of Achilles' mother Thetis, a cruel sea goddess.
But then word comes that Helen of Sparta has been kidnapped.
Torn between love and fear for his friend, Patroclus journeys with Achilles to Troy, little knowing that the years that follow will test everything they hold dear.
Cinderella is Dead by Kalynn Bayron
"It's risky…But sometimes that's the only way to get things done. Take the risk, light the fuse. Onward."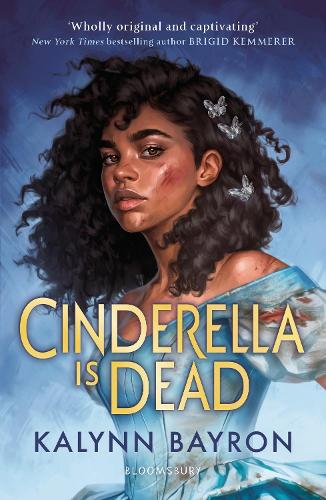 It's 200 years after Cinderella found her prince, but the fairy tale is over. Teen girls are now required to appear at the Annual Ball, where the men of the kingdom select wives based on a girl's display of finery. If a suitable match is not found, the girls not chosen are never heard from again.
Sixteen-year-old Sophia would much rather marry Erin, her childhood best friend, than parade in front of suitors. At the ball, Sophia makes the desperate decision to flee, and finds herself hiding in Cinderella's mausoleum. There, she meets Constance, the last known descendant of Cinderella and her step sisters. Together they vow to bring down the king once and for all–and in the process, they learn that there's more to Cinderella's story than they ever knew . . .
Peter Darling by Austin Chant
"Dreamers are always welcome here, whatever their reasons."
Ten years ago, Peter Pan left Neverland to grow up, leaving behind his adolescent dreams of boyhood and resigning himself to life as Wendy Darling. Growing up, however, has only made him realize how inescapable his identity as a man is.
But when he returns to Neverland, everything has changed: the Lost Boys have become men, and the war games they once played are now real and deadly. Even more shocking is the attraction Peter never knew he could feel for his old rival, Captain Hook—and the realization that he no longer knows which of them is the real villain.